This article briefly summarizes the findings of key studies focused on the use of acupuncture to treat spinal cord injury (SCI). In part, this summary was taken from my invited report for the National Institutes of Health's (NIH) Consensus Devel
opment Conference on Acupuncture held in November of 1997 (proceedings published by NIH in 1997 (pp.93 –109)).
The attached Table summarizes results from three studies performed in China before the 1997 conference (see Gao, 1984; Gao et al., 1996; Wang,1992). None of these studies had a control group. Overall, 340 out of the 360 cases (i.e., 94.4%) had beneficial outcomes, including reduction in muscle spasms, some increased sensation, improved bladder and bowel function. Treatment duration ranged from five months to two to three years, or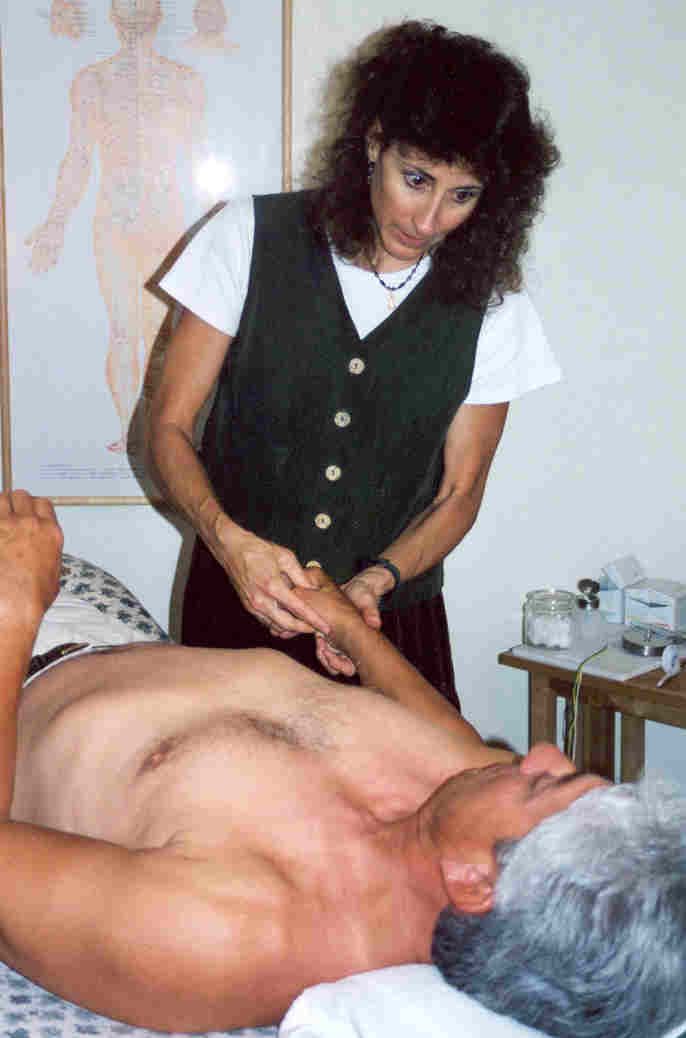 even five years. Electroacupuncture along the Bladder meridian (paravertebral) area was especially recommended. Authors recommend beginning acupuncture as soon as possible after SCI, even during the acute stage of spinal cord shock, to help reduce the development of spasms. The acupuncture treatments were also helpful in the treatment of decubital ulcers.
Additional studies have been published since 1997 which support these findings. Honjo, et al. (2000) from Japan observed that needle stimulation of acupuncture point Bladder 33 (third posterior sacral foramina) significantly improved bladder incontinence. Cheng et al., (1998) from Taiwan observed that cases receiving electroacupuncture (acupuncture points CV 3, 4 and Bladder 32) achieved balanced voiding in fewer days than cases who received no acupuncture. Cases starting acupuncture treatment within three weeks after injury required significantly fewer days of treatments compared to those treated with acupuncture after three weeks. Cases with complete spinal cord injury, either with pronounced detrusor-sphincter dyssynergia in upper motor neuron lesion or with persistent areflexic bladder in lower motor neuron lesion, were not affected by acupuncture.
Yu (1993) from Beijing Medical University observed that 100 Hz electroacupuncture (EA) (two times/day, 30 min/time) for three months had an antispastic effect on the limbs which was stable, but required additional long-term, follow-up treatments. He concluded that 100 Hz EA "decreased the excitability of the motor neurons in the anterior horns through the kappa opiate receptors, thus ameliorating the muscle spasticity of spinal origin."
ACUPUNCTURE TO TREAT SPINAL CORD INJURY

Authors

Number of Cases

Positive Results

Gao, 1984 Yuci City Institute of Paralysis, Shanxi Province, China

17 inpatients with complete traumatic paraplegia. Acute cases, 1-month post-onset and chronic cases, 5-years post-onset. Treated over a 2-3 year period.

15/17 cases or 88%

Includes improvement in the following: Reduction in muscle spasms, increased level of sensation, and improved bladder and bowel function.

Recommends beginning acupuncture as soon as possible after spinal cord injury, even during early stage of spinal shock, to reduce occurrence of spasms. Younger patients had better outcome.

Wang 1992, Institute of Health Preservation, Beijing, China.

82 cases treated with acupuncture/electroacupuncture along the bladder meridian (paravertebral) for 5 months

76/82 cases or 93%, "Effective"

Includes improvement in lower limb paralysis and bladder and bowel function

Gao, Gao, Gao, Han, Han, Han, and Han 1996, Paralysis Institute, Shanxi Province, China

261 cases treated beginning at 1 month post-onset to over 5 years post-onset.

249/261 or 95%, "Effective"

"Effective" defined as basic recovery of functions of the nervous system with ability to walk freely, and almost voluntary urination; marked effectiveness with partial recovery of functions of the nervous system, with ability to walk on crutches and restoration of urinary bladder reflex (35.2%); improvement of nervous system functions with some limb movement, defecation and/or urination (57.1%).

Recommended beginning acupuncture as soon as possible after SCI
Keep posted on new therapies, treatments, potential cures, and developments!
References
· Cheng PT , Wong MK, Chang PL. A therapeutic trial of acupuncture in neurogenic bladder of spinal cord injured patients--a preliminary report. Spinal Cord 1998 July; 36(7):476-80.
· Gao XP. Acupuncture for traumatic paraplegia. International Journal of Chinese Medicine 1984;1 (2):43-47.
· Gao XP, Gao CM, Gao JC, Ran CG, Ran F, Ran B, Ran L. Acupuncture treatment of complete traumatic paraplegia- Analysis of 261 cases. Journal of Traditional Chinese Medicine 1996;16(2):134-137.
· Honjo H, Naya Y, Ukimura O, Kojima J, Miki T. Acupuncture on clinical symptoms and urodynamic measurements in spinal-cord injured patients with detrusor hyperreflexia. Urologia Intemationalis, 65 (4):190-195.
· Wang HJ. A survey of the treatment of traumatic paraplegia by traditional Chinese medicine. Journal of Chinese Medicine 1992;12(4):296-303.
· Yu Y. Transcutaneous electric stimulation at acupoints in the treatment of spinal spasticity: effects and mechanism. Zhonghua Yi Xue Za Zhi 1993 Oct; 73(10):594-5, 637.